62 Piece Magformers Standard Set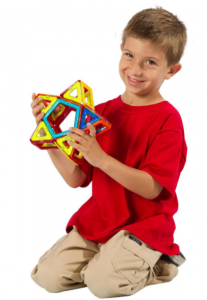 Price: $77.49
Cheapest Place to Buy: Amazon.com
My Rating: 9.8 out of 10
Why are Megformers such a great toy?
Magformers are a STEM toy similar to the Quibits Mega Building Set.  STEM toys develop understanding in Science, Technology, Engineering, and Mathematics, which is the current push in education today.  By simply playing with the Magformer your child will be forming a deeper understanding in all of these educational areas.  Later – while studying concepts in school, your child will be able to relate to the STEM connection developed during play-time with the Magformers.
In no time at all your child will be constructing Castles, Rockets, Towers, Large Magnetic Balls, and so much more.  Magformers come in a rainbow of colors.  They are made of safe, BPA Free plastic that covers a magnet.  These magnets attract one another and quickly form a variety of creative shapes.  Just watch the video below to see how easy it is to construct amazing creations.
Feature of the Magformers
62-connectable pieces
20 Triangles
30 Squares
12 Pentagons
A Step-by-Step instruction booklet
Intended for children 3-years to 16-years old.
Foster a deeper understanding of Science, Technology, Engineering, and Mathematics
Pros
An excellent educational toy
Great for all ages
Play-time becomes an opportunity for discovery & learning
Cons
I'm sorry, but there are none!
My Personal Recommendation
I absolutely love toys that foster a deeper understanding of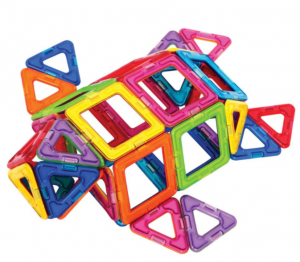 concepts that will be taught later in life.  The Magformers do just that.  By playing with these magnetic building blocks, your child will discover a host of educational concepts including: special awareness, geometric patterning, and how a 2-demensional net turns into a 3-demensional figure.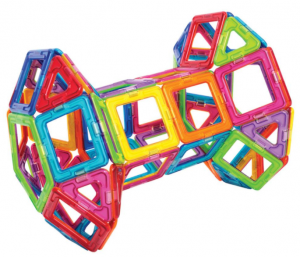 Children who engage in constructive play time with toys like the Magformers get a jump start on understanding educational concepts.  As a teacher, I see the difference between the child who has had the benefit of constructive play time and the child who has not. In school, I use manipulatives to teach the more difficult and abstract concepts.  The Magformers are an educational toy that will do the same for your child at home.
If you're like me, and you see the benefits of having your child engage in interactive play-time that promotes a deeper understanding – then the Magformers are a great option.  When children play with the Magformers, they begin to make connections to the world around them.  Later, when studying a concept in school, these connections come back to them, and children excel in their learning.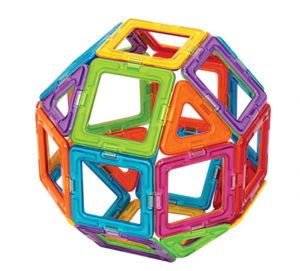 I'm a believer in the product and I know many others that absolutely LOVE their Magformers.  This is one of the best bangs for your buck.  It is a high quality product at a very fair price.  The Magformers has a 4.8 out of 5 rating on Amazon from many happy customers.  If you are a big online shopper like I am, Amazon has the best deals on the Magformers.
Is the Magformers the right toy for your child?
Do you believe that your child will learn basic STEM concepts by playing with the Magformers?
Do you encourage your child to play with toys that will foster a deeper understanding and enhance his or her educational career?
Will your child enjoy playing with the Magformers?
If you answered "Yes" to these 3-questions, then the Magformers is the right toy for your child!
The Magformers can be purchased from Amazon by using my link below. If your child plays with this toy for just one year, it will more than pay for itself.  You're looking at about $5.66 per month, if you spread the payment out over 1-year.  That's far less expensive than any tutor.
Until next time…
I hope you enjoyed my review, construction sets boys – Is this a STEM Building Sets the right toy for your child?  If you have any questions about the Magformers or want to leave your own personal review, please leave a comment below.  I do my best to respond to comments as quickly as posible.
Have a fantastic day – Brian McCoy
One last thing – a special thanks: 

 
From time to time, I get questions asking how I created my site.  If you have read my "About Brian" you know that I am a school teacher.  I know little to nothing about programming.  When I decided to create my blog, I did some research and watched a number of YouTube videos.  I started to create my blog, but I run into so many unanswered questions.  I was about to give up when I came across Wealthy Affiliate.
I would like to thank Wealthy Affiliate for teaching me how to create this website.  They have an amazing step-by-step lesson plan with easy to understand tutorials.
If you are interested in creating your own website, I highly recommend their coarse.  The first 10-lessons are FREE and will have your website up and running.  Click Here