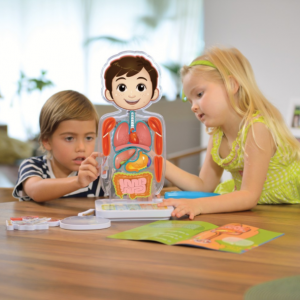 Smart Anatomy – An Interactive Toy that Teaches Children about the Human Body
Price: $69.99
Cheapest Place to Buy: Amazon.com
My Rating: 9 out of 10
Why is the Smart Anatomy such a Great Toy?
Smart Anatomy is an interactive toy that helps children gain a strong understanding of the human body and its functions.  My students always get excited when we start learning about the brain, the heart, or the lungs.  They will be fascinated by the skeletal system and how our muscles make movement possible.   When it comes to food consumption – well – that doesn't excite them as much.  However, I believe that it is extremely important for children to understand how a nutritious diet can create a strong and healthy body.
A wealth of Information
Smart Anatomy has a wealth of information about the human body.  The organs are placed anatomically, so your child can clearly see where each organ is located within the human body.  There are 150 touch points.  When your child touches the wireless "smart pen" to an organ, Smart Anatomy explains what the organ is and the function it performs in order to keep the body running smoothly.
The following video was produce by Oregon Scientific, the creators of Smart Anatomy.
Remove the Organ to see the bones
Each organ can be removed, and Smart Anatomy can be turned around to see the skeletal system.  Your child can use the "smart pen" to learn the names of the bones.
It's a natural fascination.
Children are naturally curious about how our bodies work.  Smart Anatomy does an incredible job when it comes to giving children the basic information needed to understand the human body and its functions.  Children who have played with toys like Smart Anatomy come into my class with a strong background knowledge in this subject.  When I begin my lessons, those children not only understand the concepts that I am teaching, they comprehend the deeper concepts, and they are ready for more complexed explanations about the organs and how they work.  Toys like Smart Anatomy are a huge benefit, and give children a jump start to learning the complexed systems within our human body.
Game Mode
There are 5 game modes with 20-activities to help children learn about the human body.  Children simply touch wireless pen to choose between one of the following: Touch, System, Health, Games, Find, or Fun.  This toy is intended for children 5 and up.  However, with parental interaction this toy would be great for children as young as 3-years old.
The organs are detachable, so your child can remove the organ to see what is beneath.  This provides a unique learning experience for exploring the human body.  Here's what Fox News, Channel 11 out of Los Angeles has to say about Smart Anatomy.
STEM Toys
Companies are developing more and more of these STEM toys.  STEM toys help children develop their understanding and skills in the latest educational standard of blending the studies of Science, Technology, Engineering, and Mathematics.  By playing with STEM toys like Smart Anatomy your child will develop a strong understanding the human body, its organs, its muscle arrangement, and its skeletal structure.   This gives your child a huge advantage as they go through their educational career.  As I mentioned before, Children who have played with these STEM toys excel when they enter my 6th grade class, because they come in with a basic understanding that allows them to explore concepts at a deeper and more complexed level of understanding.
Feature of Smart Anatomy
Smart Anatomy is just over16-inches high, about 8 ½ inches wide, and about 7 ½ inches deep.
It comes with a wireless Smart Pen (2-batteries are included)
There are 150 touch point that explain the human body.
There are over 600 sounds
You can plug the Smart Pen into a computer & downloadable updates.
The Smart Pen comes with a headphone jack, so your child can learn & play, without disrupting anyone else in the room.
Smart Anatomy comes with posters and booklets that give additional information.
Smart Anatomy comes with both a boy & girl face.
5-Game modes
20-Activities
Intended for children 5-years old and up.
Fosters a deeper understanding of Science, Technology, Engineering, and Mathematics
Pros
It's a STEM toy, which helps the child excel in their educational careers
Great for all elementary aged children
Play-time becomes an opportunity for discovery & learning
Cons
The "Weird Facts" has same information that is not scientific
You have to choose between boy or girl when you first set up Smart Anatomy
Don't loose the pen.
My Personal Recommendation
I absolutely love STEM toys that are fun.  Smart Anatomy is excellent, because it turns play time into an opportunity for discovery.   Smart Anatomy fosters a love of learning and provides a strong foundation of the working of the human body.  By playing with Smart Anatomy, your child will discover a host of educational concepts including: the function of human organs, muscle structure, skeletal structure, and dietary requirements.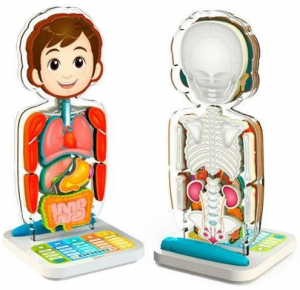 If you're like me, and you see the benefits of having your child engage in educational play-time that promotes a deeper understanding – then Smart Anatomy is a great option.  When children play with Smart Anatomy, they begin to understand how the human body works, as well as why it is important to get plenty of exercise and eat a healthy diet.  Later, when studying the human body in school, your child will benefit from the knowledge gained through playing with Smart Anatomy.
I'm a believer in the product and I know many others that absolutely LOVE their Smart Anatomy.  This is one of the best bangs for your buck.  It is a high quality product at a very fair price.  Smart Anatomy has a 4.3 out of 5 rating on Amazon.  If you are a big online shopper like I am, Amazon has the best deals on Smart Anatomy.
Is Smart Anatomy the right toy for your child?
Do you believe that your child will learn about the human body by playing with the Smartt Anatomy?
Do you encourage your child to play with toys that will foster a deeper understanding and enhance his or her educational career?
Will your child enjoy playing with the Smart Anatomy?
If you believe Smart Anatomy would enhance your child's education…
Until next time…
I hope you enjoyed my review, Educational Toys Preschoolers – Smart Anatomy is a Great Toy that Helps Children Learn about the Human Body!  If you have any questions about Smart Anatomy or want to leave your own personal review, please leave a comment below.  I do my best to respond to comments as quickly as possible.
Have a fantastic day – Brian McCoy