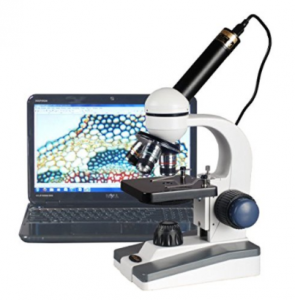 AmScope M-150C Microscope with the 5-MegaPixel USB Camera
Price: $159.98
Cheapest Place to Buy: Amazon.com
Warrantee: 5-Year
My Rating: 9 out of 10
Why is the AmScope M-150C such a great deal?
This is an incredible buy!  The AmScope M-150C is comparable to microscopes that are selling for around $400.  That's not even including the 5-megapixel USB camera that connects to your computer or laptop.  If you don't need the camera, you can get the AmScope M-150C for even less.  Click here to see details.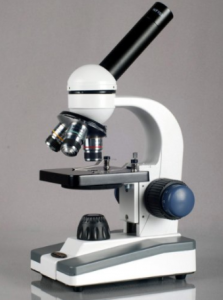 The AmScope M-150C comes with two eyepieces; a 10-times enlargement and a 25-times enlargement.  The 25-times enlargement eyepiece will enable you to see things at 1,000 time their actual size.  This makes the M-150C powerful enough to even see blood cells as they move around on the slide.  It is an electric illuminated microscope, but it has batteries.  This is a great advantage if you want to use your microscope in an area where there is no electrical outlet.   The light source is an 8mm LED bulb, and comes with a brightness adjustment that creates a sharp image.  Finally, the AmScope M-150C is made of durable medal, so it will last for years and years.  This is a perfect microscope for students from elementary to high school.  It even receives rave reviews from adult microscope enthusiasts.
Feature of AmScope M-150C
There are 5-Levels of magnification enlarging objects up to 1,000 times their original size, (40X, 100X, 250X, 400X, and 1,000X).
The full optical glass elements gather light from the object being observed and focuses the light rays to produce a clear image.
Objects are illuminated by a built-in LED light source.
The single lens condenser provides high resolution & sharp imaging.
The eyepiece locks in place.
The eyepiece swivels 360 degrees, so you can easily share your experience with others.
A disc diaphragm will vary the intensity and size of the cone of light in order to project a clear image.
There are Focusing control knobs on both sides of the microscope to adjust for coarse or fine focusing.
Precisely ground, optical glass lenses provide high resolution & sharp imaging.
All the essential components are constructed of metal for years of durable use.
The M-150C has a solid metal frame with a stain resistant enamel finish.
The M-150C meets the ISO 9001 quality control standard, which is a third-party certification that provides independent confirmation that item meets rigorous requirements of a high-quality product.
The M-150C's dimensions are 15 inches high, by 10 inches long, by 7 inches wide.
The M-150C comes with a 5-year factory warranty
The following video was produce by AmScope and demonstrates the set up of your microscope.
Developing Science Skills
The AmScope M-150C offers children with an interest in the sciences an excellent opportunity to develop skills of observation.  It is the perfect package, because it is a high powered microscope that comes with a 5-megapixel USB camera.  In today's world where children can create projects like PowerPoint presentations and MP4 movies on their computers, this is the perfect combination.  The full optical glass elements and metal framework ensure not only a high quality microscope, but one that will last for years to come.  Having the ability to rotate the monocular head 360-degree makes sharing discoveries an ease.  The LED illumination system can be plugged into an outlet, or you can take your AmScope into the field and use three AA batteries.  And Finally, the ability to see thing at 1,000 times their original size makes the AmScope M-150C a scientific tool that can be used through high school and beyond.
My Favorite things to look at through this microscope
Wings of an insect
Snowflakes
Kosher Salt
Mosquito stinger
 Pros
It's an instrument that enhances the love of science.
Great for elementary through high school students, and adult microscope enthusiasts alike.
Exploration becomes an opportunity for discovery & learning
Cons
I am sorry, but there are no cons for this product.
My Personal Recommendation
I absolutely love this microscope.  The AmScope offers a high quality product at an extremely reasonable price.  This microscope turns the fun activity of looking into the micro-world into an opportunity for learning & discovery.
I'm a believer in this product and I know many others that absolutely LOVE their AmScope M-150C.  This is one of the best bangs for your buck.  AmScope M-150C has a 4.5 out of 5 rating on Amazon.  If you are a big online shopper like I am, Amazon has the best deals on Smart Anatomy.
Is the AMScope M-150C the right microscope for your child?
Do you believe that your child will learn scientific skills through exploration into the micro-world with the AmScope M-150C?
Does your child enjoy science, and looking at things within the micro-world?
Will your child consistently use the AmScope M-150C microscope?
If you believe this is the right microscope for your child…
Until next time…
I hope you enjoyed my review, Best Microscopes Kids – AmScope M-150C is the best microscope for elementary through high school children, and even adult microscope enthusiasts!  If you have any questions about Smart Anatomy or want to leave your own personal review, please leave a comment below.  I do my best to respond to comments as quickly as possible.
Have a fantastic day – Brian McCoy