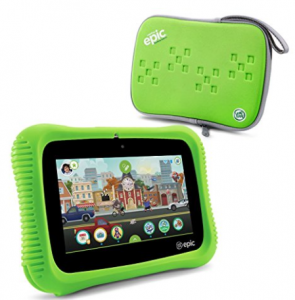 LeapFrog 16-Gigabite Tablet with 7-inch screen & Carrying Case
Price: $126.99
Cheapest Place to Buy: Amazon.com
Warrantee: 1-Year
My Rating: 8 out of 10
Why is the LeapFrog Epic such a great Tablet for children ages 3 to 9-years old?
The LeapFrog Epic Academy is an incredible buy.  It comes with a Quad Core Processor and has 16-gigabites of memory with a Micro SD Card Slot, so your child can save even more information.  There is a 2-MegaPixel camera on the front and a second camera on the back of this tablet.  You also get a 3.5mm stereo jack and microphone, so your child can  listen to his or her games without disturbing everyone else in the room. There is a built-in lithium-ion battery with an AC adaptor that makes recharging your tablet super simple.  Finally, the LeapFrog Epic comes with a Shatter-Safe LCD screen and protective bumper, so your child can use this tablet with no worries of breaking the screen.
Click here to purchase the pink LeapFrog Epic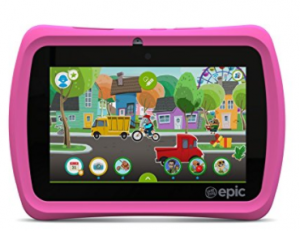 Features of the LeapFrog Epic
You have total control with the LeapFrog Epic.  You can manage what your child will see, how long they can watch it, and even when they can access their games.  Simply use the Parental Controls to manage your child's time on their new tablet. The Parent control allows you to manage what they can see on the internet, what they can watch on Netflix, and how much time they spend on the hundreds of Android game apps.
The "Just for Me" Learning technology allows your child to personalize games that will challenge him or her as they grow. This tablet is packed with on-board learning content.  You will also have access to leapfrog's award-winning library, which includes hundreds of games, apps, videos and music.  There are over 20 kid-favorite android apps.  And, if that is not enough, you can easily upload more apps from Amazon's Andriod App Store. Finally, the LeapSearch, kid-safe, web browser makes surfing the internet both simple and safe!
The LeapFrog Epic is designed Specifically for children –
This tablet and its browsing system were designed specifically for children ages 3 to 9-years old.  Just turn your LeapFrog Epic on and you'll see a city street similar to the one on Sesame Street.  There are plenty of interactive objects for your child to explore. This makes the LeapFrop Epic easy for them to use.  Many other tablets market themselves for children, but are actually adult tablets with little more than a few parental locks added to the functionality.  Then they pop in a number of kids apps, and market for children.  This is not the case with the LeapFrog Epic.  This tablet was designed from the ground up with children in mind.
A Quick Review of the LeapFrog Epic
Operating system based on Android™ 4.4
16GB memory with Micro SD Card Slot
Expandable up to 1.3 GHz Quad core processor
2MP front and back camera
Equipped with 3.5mm stereo jack with microphone
Latest Epic Academy learning from LeapFrog
Shatter-safe LCD screen
Protective Bumper and matching Carrying Case
AC adapter
USB Cable
Designed for children 3-9 year olds
Parents controls for up to 3-children
Netflix accessible
Easy to download Android apps
The Following Features allow the LeapFrog Epic to grow with your child!
"Just for Me Learning" technology that personalizes select games to challenge kids as they grow.
leapfrog's award-winning library including hundreds of games, apps, videos and music
Over 20 kid-favorite android apps and the world-class kid-safe web with the LeapSearch browser.
Support Wi-Fi and Bluetooth 4.0.
Easily add websites to your Epic tablet as your child matures.
Pros
The Android operating system was designed from the ground up for kids
16GB of memory
Stereo jack for headphones
Two cameras – one in front and one in back
Parental controls with multiple individual profiles for kids. As a parent, you can manage up to 3-children on one tablet.  You can completely block the internet for one child and allow certain websites for another.
Over 20 kid-favorite android apps – You can easily add more. There arte a ton of great educational games and apps available through Leapfrogs app store.
Cons
As of right now, the LeapFrog Epic does not come with a password for each profile.
Extra Apps and Games can be expensive
My Personal Recommendation
I absolutely love this tablet.  The LeapFrog Epic offers a high quality product at an extremely reasonable price.  This tablet has an Android-based operating system that is designed specifically for children. The LeapFrog Epic has a 3.7 out of 5 rating on Amazon.  If you are a big online shopper like I am, Amazon has the best deals on this tablet.  It's a great buy.
Here are some options that can save you even more money:
ONE –
For extra protection, this tablet comes with a carrying case.  If you don't need the case, you can get the LeapFrog Epic for even less.
Click here to see details for the Green LeapFrog Epic without the case
Click here to see details for the Pink LeapFrog Epic without the case
TWO –
If you really want to save money, you can purchase a certified refurbished LeapFrog Epic.  Click here to see details.
Until next time…
I hope you enjoyed my review, LeapFrog Learning Tablet Reviews – Is this the Best Tablet for Your Child?  If you have any questions about the LeapFrog Epic or want to leave your own personal review, please leave a comment below.  I do my best to respond to comments as quickly as possible.
Have a fantastic day – Brian McCoy