When children enter 3rd grade, the emphasis changes from "learning to read" to "reading to learn".  Children should be able to read grade-level novels and text books.  Their reading fluency should sound like conversational speaking, and their comprehension should be strong.  If your child is struggling with reading fluency and/or reading comprehension, there are 4-simple strategies you can use to increase their reading ability.  For kids who struggle in reading, school can quickly turn from the fun-loving place children experience in kindergarten into four walls that lock away their self-esteem.  Children who struggle with reading often feel insecure and begin to dread going to school.
Four Strategies:
Achievable Books
Shared Reading
Time in the saddle
Book Chat
ONE – Achievable Books
Make sure your child has plenty of books that are at his or her ability level.  These should be books that your child is interested in reading.  If your child loves horses, find books like "Black Beauty" or "Foals in the Field" for younger readers.  If your child is still in the very beginning stages of reading – predictable books are a Godsend.  Predictable books allow children to guess what is coming next.  This is important, because strong readers are constantly predicting without even being aware of it.  Over time, children who read predicable books develop an understanding of the storyline, which develops their comprehension skills.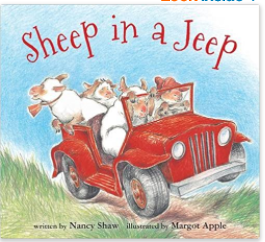 Sheep in a Jeep is my all time favorite, because I used to read it to my youngest son.  After reading this book to him three times, he was able to read the entire book to me.  He was in preschool at the time.  The skills acquired through this early form of reading have given him strong attributes in reading fluency and comprehension.
Predicable books for beginning readers:
Why Mosquitoes Buzz in People's Ears
Goodnight Moon
The Very Hungry Caterpillar
This Is the Bear and the Bad Little Girl
If You Give a Mouse a Cookie
The Zoo at Night
Sheep in a Jeep
Predictable books for Slightly older children:
The True Story of the Three Little Pigs
There Was an Old Lady Who Swallowed a Fly                             
Predictable books for young adults (5th  or 6th grades):
This School Is Driving Me Crazy
Mom, the Wolf Man, and Me
A Star for the Latecomer
Choosing a book that is at your child's reading level is easier than you might think.  Go to the library, bookstore, or even Amazon.com.  Have your child read the first few pages of the book.  Amazon let's you preview the book.  Your child should be able to read about 90% of the words without your help.  If he or she does not know at least 90% of the words, it is not a book that your child can read independently.  If a book is too difficult, but your child is really interested, I encourage you to read the book with them during your shared reading time.
That leads me to number two.
TWO – Shared Reading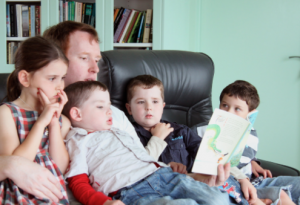 Everyone loves having someone read to them.  If you cuddled up to your mom or dad – it's all the better!  Take advantage of this fact.  Read with your child every day.  Trust me – as a father whose two boys that are grown and gone, the time I spent reading with them is time that I truly cherish.  It seems like just yesterday that they were in elementary school.  My how time flies.
Shared reading can be done in a number of ways.  If the book is far too difficult for your child, you can read.  If the book is slightly too difficult for your child, you can take turns reading.  And if the book is at your child's ability level, you can listen as your child reads.
The best part about shared reading is that you can stop in the middle of the story to explain words your child has never heard before.  This is helping to develop their vocabulary, which is a huge when it comes to reading comprehension.  You can talk about the characters and the choices they have made.  You can discuss what the characters could have done differently, or what you would have done in that situation.  You can talk about the setting.  Discuss if you would ever like to take a family vacation to a place similar to the setting.  All these discussions help paint a vivid picture in your child's mind about what is happening in the book, which in turn develops their reading comprehension.
When you read with your child, you are modeling the importance of reading.  By setting aside time for shared reading, you are showing your child that reading is important enough to shut off the TV, internet, and smart phone.  You are modeling what good readers do every time they read.  You are also modeling the type of behavior that will ensure your child's success in school.
Shared Reading is so important that you could even use some of your child's "Time in the Saddle" as shared reading.
THREE – Time in the Saddle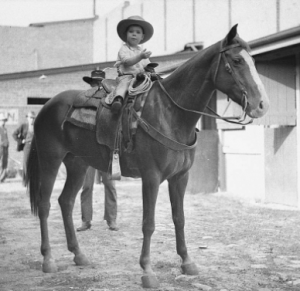 In order to ride like a cowboy, you have to have hours and hours in the saddle.  In order to become a proficient reader, you have to have hours and hours of reading.
Establish a specific time and place for your child to read every single day.  Reading is nothing more than learning a second language.  If you immerse your child in the language of reading – your child will learn to read with smooth fluency and strong comprehension.
When my son was in second grade, his teacher required 20-minutes of reading each night.  Being a teacher myself, I saw how children who only read the minimum amount of time never really excelled at reading.  Because of this, I had my son read for an hour each night.  At first he thought it was an "awful lot of reading".  However, after about a month, he was enjoying the reading so much that I never heard another complaint.
I believe that raising children is a lot like training a dog.  If you get a dog as a puppy and you never feed it from the table, then your dog will not beg for food.  However, the minute you feed your dog from the table, you will forever have him drooling on your knee as he begs for more.  If you establish a specific time and place for your child to read and you are consistent, then your child knows what to expect.  This makes your job as a parent so much easier.
FOUR – Book Chat
Talk with your child about what they are reading.  Children love to talk about the movies that they see.  They can tell you every aspect of the movie, because they get so engrossed in the movie that they feel like they are part of it.  They can tell you all about the characters and what they did.  They can tell you why a particular character ended up in a hair-raising situation, and how that character finally saved the day.  You might say that their "movie watching comprehension grade" is an A+.
You can do the exact same thing with your book chats.  Ask your child who the characters are and what they are like.  Are they nice?  Why – what do they do that makes them nice?  Are they mean?  Why – what do they do that makes them mean?  Where do they live?  Is it present day, the past, the future, or a fantasy world.  Describe where the story takes place.  If they do a good enough job, you will understand the book as well as you understand the movies that they tell you about.
Be Consistent & Give it a Bit of Time
If you implement these four simple strategies, you will be surprised at how much better your child is reading in as short a time as 3-months.
Need More Help?
Is your child far below standards?
Does he or she need help decoding words?
These are skill that should be established by the time your child enters the third grade.  Reading Horizon is a great option.  Watch this video to see how they decode reading into an understandable system:

One last thing –
I have written a couple of books.  My novels are not predicable books, but they are written in a style that makes reading accessible and fun for children.  One of my books is written for 3rd grade students, and the other is written for 6th grade students.
Novels by Brian McCoy –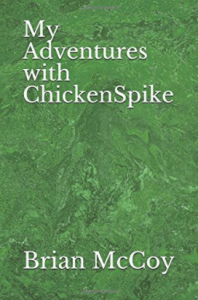 My Adventures with ChickenSpike – A Children's Fantasy Book intended for readers in 2nd through 4th grades.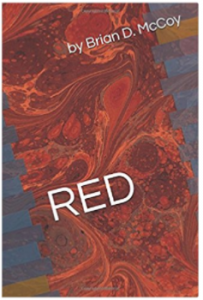 RED – an Action & Adventure Novel intended for readers in Middle School
If you have any questions or would like to share your feelings, please leave a comment below.  I will reply as quickly as possible.
Thanks!
Have a fantastic day – Brian McCoy