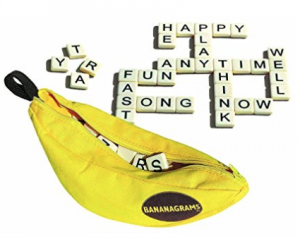 Bananagrams
Price: $13.54
Where to buy Bananagrams Game at the Cheapest Price: Amazon.com
My Rating: 9.5 out of 10
Bananagrams is a Fast Paced Game
Put Scrabble on steroids and you get Bananagrams!  From the moment someone yells, "Split!"
Bananagrams fires into action.  Players flip their tiles and race to make their own word-grids.  Someone runs out of tiles and shouts, "Peel!"
Everyone reaches for another tile.  This continues until there are fewer tiles than players.  If you're the first to complete your grid you shout, "Bananas!"
If you're grid checks out…
No misspellings
No Proper Nouns
No made up words
… You Win and become the Top Banana!
Bananagrams is a Lighthearted Educational Game!
This is where Bananagrams really shines.  The entire game fits inside a zipped-up banana case.  The case sets a lighthearted tone for the game.  Kids of all ages, (Yes – that includes grandma & grandpa) love Bananagrams.  This game is fast moving with no downtime, so it is a bast for the whole family.
Best of all, playing Bananagrams develops your child's spelling skills, site-words, knowledge of prefixes & suffixes, and even increases their vocabulary.  It's a game, but it is also an excellent opportunity to to introduce new words to your children.  As your reviewing your word-grid, explain the meaning of any words that your children don't understand.  This is an excellent and meaningful way to develop your child's vocabulary.
Bananagrams is even Better than Scrabble
Scrabble takes "days" to play.  Okay, it only takes an hour or so, but you get the message.  Bananagrams games are intended to be rapid-fire.  A game will typically take about 15 minutes to play.  Families often play a set of three or four games, which I like to call "Tournament Style".  The games tend to move much quicker than Scrabble and there is no downtime, making Bananagrams a number-1 choice when it comes to word games.
Is Bananagrams the game for you?
Do you enjoy word games?  Do you like the challenge of creating words from random letters?  Do you like crossword puzzles?  If you answered "yes" to any of these questions – I am confident that you will love playing Bananagrams.
Bananagrams is also a great game for kids, because it is simple to teach.   Kids can start a chain of "PEELS" with two-letter words, and build in complexity.  When children play Bananagrams, they effortlessly develop skills that will help them excel in school.
Bananagrams can be played like solitary with just one player, or with a large group.  As a solo player, you have all the time in the world to create words.  The game becomes more and more exhilarating with more players.  The more players, the less "think-time" and the more frantic the game.  Bananagrams is fast-pace, and when you have a bunch of players the game gets crazy-fun!
An average game with two people will last about 15-minutes.  However, a game with five or six players can be played in as little as 5-minutes.  Because of this, many people like to play "tournament style" where the ultimate winner must win the best of three games.
Bananagrams is easy to learn and super fun to play!
Step 1
Empty the Bananagram tiles onto a table or even the floor.  Make sure they are all turned upside down.
Step 2
Each player grabs their tiles.
2 to 4 players gab 21 tiles
5 to 6 players grab 15 tiles
7 to 8 players grab 11 tiles
Leave the remaining tile face down in the "BUNCH".
Step 3
Someone yells, "SPLIT!"
Each player flips their tiles over and begins forming letter into words that form a grid like the photo below.  You can rearrange your grid at any time to form new words.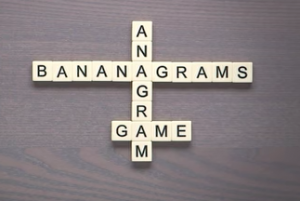 Step 4
When you run out of letters, shout, "PEEL!"
Everyone grabs another tile and continues forming words.
If you have a letter that you simple can not use, shout, "DUMP!"
Put that letter back into the BUNCH and grab 3-tiles.
Step 5 (Ending the game)
When there are less tiles in the BUNCH than there are players, the first person to place all their tiles into their word-grid shouts, "BANANAS!"
The word-grid is checked to make sure:
There are no misspellings
There are no proper nouns
There are no made up words
If the word-grid checks out – that player Wins and is the TOP BANANA!
If there are any misspellings, proper nouns, or made up words, that player is a ROTTEN BANANA.  The ROTTEN BANANA returns all his or her tiles to the BUNCH and is out.  The remaining players pick up the game from step 4.
Get Started by purchasing your Bananagrams
Where to buy Bananagram Game?  That's easy.  The best price is a Amazon.
Pros
By playing Bananagrams children learn a host of educational skills:
Spelling
Site words
Prefixes
Suffixes
New vocabulary words
Not to mention – this is a fun game for the whole family!
 Cons
There are NO cons to playing Bananagrams – It's too darn FUN!
My Personal Recommendation
Bananagrams is an awesome word-game!  Bananagrams has a 4.4 out of 5 rating from over 2,000 happy customers on Amazon.  If you are a big online shopper like I am, Amazon has the best deals on this game.  It's a great buy.
Until next time…
I hope you enjoyed this review.  If you have any questions about Bananagrams or want to leave your own personal review, please leave a comment below.  I do my best to respond to comments as quickly as possible.
Novels by McCoy –
I have written a number of books that are available on Amazon.  I have nonfiction books on mathematics that link to video tutorials and are designed to help children gain a deeper understanding of the math.  Here is a link to the first book in my series on fractions.  I have also written a chapter book and a young adult novel.  You can have a free preview by clicking on the links below.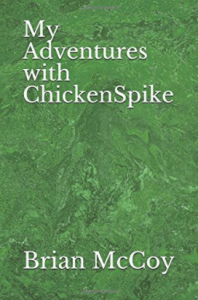 MY ADVENTURES WITH CHICKENSPIKE – This is a chapter book that is perfect for children in 3rd and 4th grades.  My Adventures with ChickenSpike is a Children's Fantasy Book.  The main character is a young boy who is being bullied.  He travels to a distant planet and finds his inner strength.  By the time he returns home not only is he no longer a victim, he is a hero!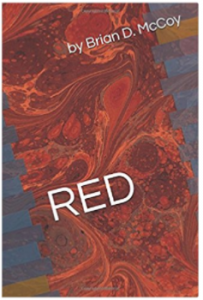 RED – This is a young adult novel that is especially designed for children in 5th and 6th grades.  Red is an action packed adventure with two main characters and a number of supporting characters that add humor and drama to this novel.  Bruno Vic and Evelyn Rose attend Sir Francis Drake Middle School.  Bruno is big, street-wise, and tough, but he also has high morals and undying loyalty to his friends.  Evelyn Rose was born rich, but an unfortunate turn of events has landed her in the heart of the Tenderloin District of San Francisco.  Bruno, Evelyn, and their friends are desperate to steer clear of the gangs, so the turn to a mysterious man that the gangs seem to fear.  His name is Red.
Have a fantastic day – Brian McCoy