Hi – Brian McCoy here.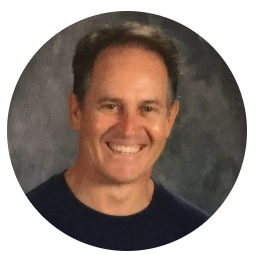 I am a teacher
I currently teach 6th grade in Northern California.  My calling in life is to help children learn the essential skills necessary to have a successful academic career.  As a student, I struggled with the learning disability of dyslexia (still do).  This has had a dramatic effect on my philosophy of education.  I know how it feels to be intelligent, yet feel dumb because you are struggling to understand a concept.  All children are intelligent.  Some children have gaps in their learning due to a wide range of challenges and/or learning disabilities.  However, All children learn at a deeper level when the content is presented in a manner that show the solution and explains why that solution solve the problem at hand.  This is why I am an advocate of mathematical models.
As a teacher, my mission is to all children excel.
I am a former collegiate gymnast
I became enthralled with the sport of gymnastics when I was in elementary school.  As far as I was concerned, gymnastics was the next best thing to living the life of Tarzan, swinging from tree to tree and doing battle with the wildest of animals.  As time past and my skills improved, I became a highly ranked gymnast.  It was the one thing that gave me a sense of accomplishment.  Where school made me feel insecure because of my dyslexia, gymnastics gave me a self-confidence.  It was my driving force for attending college. Gymnastics also taught me many things about being a teacher.  First and foremost, anything can be accomplished provided you learn the proper progressions.  Second, children excel most quickly when they are motivated with positive reinforcement.  And finally, all children can succeed.
Do you have any questions about my game, books, or educational strategies?
If so, I would love to hear from you.
Use my contact page to shoot me an email.
Thanks for reading & have a fantastic day – Brian McCoy