Instructions for Students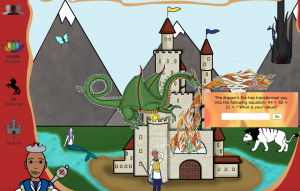 ONE
Click on the photo above and go to our home page at teachersdungeon.com. You can Log into your student account using your USER NAME and PASSWORD.
TWO
CHANGING YOUR AVATAR
Watch this quick video to learn how to change the look of your avatar. You can also see how to use your crystals to work your way to king or queen.
THREE
SEE HOW YOU ARE DOING
Watch this quick video to learn how to check your stats.
FOUR
CREATE A CONVINCE ME TUTORIAL
This is the coolest part of TeachersDungeon, because you can act like the teacher!  Watch the video below.  It will show you how to make a video tutorial.  You can explain why your answer is correct, and then submit your video to become part of the game. Once approved, your tutorial will become part of the TeachersDungeon game-play.  If another player gets that question wrong, they will watch your tutorial and learn the solution for that problem.
FIVE
SEND A MESSAGE TO YOUR FRIENDS
Watch this quick video to learn how to send and receive messages.
Once again – I would like to thank you for using TeachersDungeon.
Have a great day –
Brian McCoy, Creator of TeachersDungeon